Best Marina Del Rey window tinting open on Sunday's
Best Marina Del Rey window tinting open Sunday's
Now on Sunday too, best Marina Del Rey is open. Once again 310 TINTING is thinking sabe to window tinting consumers all over Los Angeles by opening his doors to his clients the idea behind is to take advantage for a day in the beach, located in Venice just a few blocks from Venice beach and a few steps from Marina Del Rey what a deal that can be, think again a day in the beach while your car windows get tinted, nothing could be better then that.
Gregory B. a long time client got the experience with this new quality of window tinting films and a nice walk in the city of Santa Monica, his car was done with the right choice of shades, for his need on a family sedan vehicle he decide to get a very light shade all the way around his windows and the results where magnificent, one shade for ceramic window tinting mark a new look that will last for years to come.
Mark Sullivan writes a review about this new idea of opening the Venice window tinting shop for extended hours and how helpful and convenient it is.
Mark wrote: "they open from 9AM to 9PM 7 Days a week and make my Sunday a worth trip to Marina Del Rey where my Boat is, a day on the beach enjoying the Marine life style while my new car windows are tinted is a win, thanks Armando your shop have done the job just perfect for us"
310 TINTING will be open daily from 9AM to 9PM from Monday true Sunday to ensure quality window tinting service for Marina Del Rey visitors and Residents and if you have plans on the weekends to go at the beach while your car is fix with window tinting films of remarkable quality, all you need to do is call and make your reservation soon.
Phone: (310)846-8464
services we offer:
Window tinting | tint removal | Commercial tinting |
Residential Window Tinting | Marine window tint films
Auto Window Tint
Car Detailing | Paint Restoration | Paint touch up | headlight restoration | exterior Detail | interior Detail
Auto Glass repair | Car window replacement | front windshield | windshield replacement
City of:
Marina Del Rey, Santa Monica, Playa Del Rey, Venice, Culver city, Beverly Hills, Hollywood, Malibu, Redondo Beach, LAX, El Segundo, Torrance, Los Angeles, Bell Air, Pacific Palisades
Summary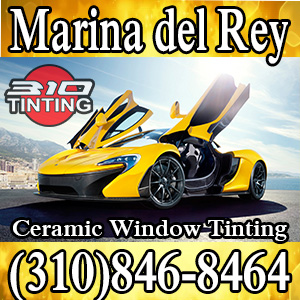 Article Name
Best Marina Del Rey window tinting open on Sunday's
Description
great installer of window tinting in Marina Del Rey offer many window tinting tiers of quality for you to choose from Dye window tinting all Nanotechnology Ceramic window tinting in Marina Del Rey for car home office residential or commercial
Author